Proud to work with Pellon

9 times more effective than N95 & FFP2 masks
Chemport traps down to 23nm in size, compared to the N95 and FFP2 that only tests down to 300nm of filtration.
Specifically designed to protect against viruses
The V-100 is built to protect against the smallest of viruses harmful to humans.
77% viral destruction within 60 seconds upon contact
90+% viral destruction achieved within a 5 minute period.
"The face mask that Chemport supplied is brilliant. Without question it is the best mask I have used and believe me over the past year I have become an expert on face masks. The fit around the face is superb thanks to the flexible nose strip and the adjustable over ear straps, but more importantly it does filter out particles. When I am wearing the mask nearly all "smells" are removed including my wife's perfume and petrol odours at the pump."
– Customer review
"I haven't experienced any irritation around the ears which has happened with other mask.
Like the fact that it is reusable/washable. From a personal perspective I like the fact there is science behind the mask and it has been trialled in a lab."
– Local GP
The Chemport V-100 Mask
---
A fully established face mask with an adjustable nose strip, the Chemport mask offers a tight face fitting mask that is comfortable to wear for long periods of time.
Comfortable to wear for long periods of time
Certified UK government lab testing results
6-layer fabric technology
99.93% effective in protecting against viruses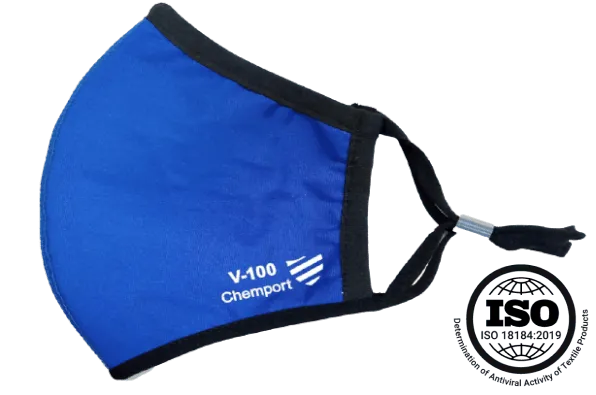 Research
The Chemport V-100 has been specifically designed and built to protect the wearer against viruses…

FAQ
Want to know more about the V-100 facemask? Click the link below…